Biscotti is a kind of cookie
That makes you wanna bite
Coz it is so crunchie
And taste good too, if you get it right.
Though it is not so buttery
It still taste yummy
Especially when you dunk it
In your favourite cup of coffee.
Making biscotti is quite easy
Just follow the recipe
Remember to set your timer
And watch the oven temperature.
You need to make a loaf
Then bake it till it rise
Take the loaf out
And cut it into slice.
In the oven again it goes
Bake till the slices are dry
The smell of chocolate in the air
Oh this you can't deny.
Out from the oven, and off to cool
Whip your coffee and please don't drool
Wait till biscotti is warm, if you can stand it
Then take a fat big piece and eat !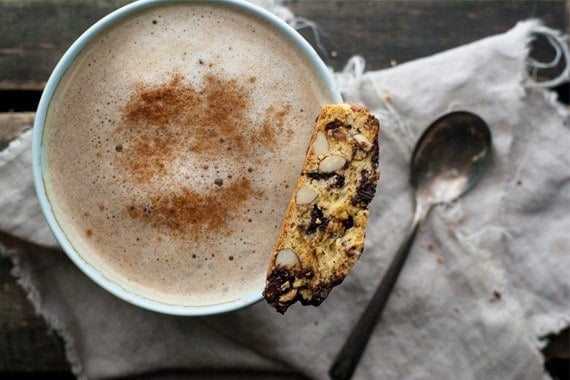 THE RECIPE
1 3/4 cup all purpose flour 1/4 cup cocoa powder 1 teaspoon instant coffee powder 1 teaspoon baking powder 1/4 teaspoon baking soda a pinch of salt 3/4 cup of sugar 2 large eggs 3 tablespoon of vegetable oil grated zest from one orange 1/2 cup chocolate chips
Preheat oven at 180C.  In a bowl, mix the flour, cocoa, coffee powder, baking powder, soda and salt.   In another bowl, mix together the sugar, eggs, oil and grated zest.  You can use a mixer or just your hand.  Mix till smooth, for about 3 minutes.  Then add the wet ingredient to the dry ingredient.  Stir till all the flour is combine, then add the chocolate chip.  The dough will be quite sticky.  Divide into two and try make to make a loaf, the size of 7 inch x 2 inch in width.  You can shape the dough using your hand, rub some oil to make it easier.
Bake for 25 minutes, remove and place the logs onto a wire rack to let it cool.   You may off the oven now.
Wait for 15 minutes, then cut into slices using a serrated knife.  Don't wait too long or the loaf will be too hard to cut.  Cut diagonally at about 1/2 inch thick.  Arrange so it doesn't overlap.  Now on the oven again at 180C.  Bake the slices for 5 minutes.  Then turn the slices over and bake for another 5 minutes.  Do not overbake or you will end up with a very tough biscoti.
Once cool, keep in an airtight container.
Related posts:
Powered by YARPP.
Click for more info

Contact me

Yasmin Sanusi
Sms/ whatsapp : 019-3805344
Email : minbakingproject@gmail.com

ARISSA AZMAN RESOURCES(002206222P)
Taman Cheras Indah,
56100 Kuala Lumpur

CLICK BELOW TO VISIT MY INSTAGRAM

Order my books

Recent posts

Archives

Categories

Search for recipes

Meta